UNIC code of conduct and social accountability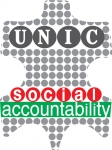 ---
Certification applicable to
A socially responsible company not only ensures compliance with the mandatory legislation, but goes beyond, investing more and more on human resources, on environmental respect and on its relationship with the stakeholders, thus generating trust.
The leather sector market is more and more interested in social accountability, demanding for its respect in the whole supply chain. The Code of Conduct and Social Accountability, a tool provided by UNIC, is a basic instrument to widespread the principles regulating business activity. In this document the principles of conduct and social accountability characterizing the companies are officially defined.. The documents includes the principles of SA8000 standard, of the main international agreements (ILO) about the workers' rights, above all regarding to juvenile labour, and the main requirements about social accountability, environmental respect and professionalism. To implement the Code means also to involve the suppliers and the possible subcontractors in the supply chain, in the limits of their jurisdiction.
The Code of Conduct and Social Accountability is approved also by the trade unions and since 2013 it is included in the national collective labour contract of tanning sector.
ICEC performs the audits to certify the conformity to UNIC Code of Conduct and Social Accountability.
To receive the Code and its implementation guidelines please write to icec@icec.it.
All the companies certified by ICEC are in the certified companies database